Channing Seideman is an 18-year-old Colorado native who has lived with epilepsy since age 10. Seize The World fans may remember Channing from her 2009 feature, "You Only Live Once." Channing is very good at figuring out ways around her seizures so that she can lead a fulfilling life. The following story is based on Channing's phone interview with Seize The World on February 13, 2012. I hope you will enjoy learning about her perspectives on epilepsy, active living and following your dreams.
Stephen Allen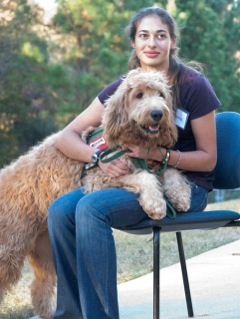 Channing Seideman with her service dog, Georgie. 
Channing grew up in Aspen, CO, but she and her parents just moved to Cincinnati in October. Her favorite activities are skiing, horseback riding, and medicine. She has trained as a First Responder and as a veterinary intern. It is clear that she simply wants to put epilepsy into the background – she wants to accomplish her goals. "It took me five years before I was okay with hearing my parents say the words 'epilepsy' or 'seizure' – it is really important to accept it, embrace it and find your solutions.
Adversity
Channing missed an entire year of middle school while she was at home having seizures or recovering from seizures. She had regular seizures in class, her grades suffered, and she had trouble retaining information.
She also lost several friends because many people saw her as a victim in need of protection rather than as a friend or as a peer.
Channing studied hard though and and she went to tutoring sessions regularly. She caught up with her classmates again and graduated with good grades from Aspen High School.
Channing's most-recent struggle with epilepsy came last year in an EMT course at Colorado Mountain College (CMC) in Aspen. Channing had a Tonic Clonic Seizurein class – her third during two semesters. Soon after the seizure, she received an email asking her to drop the course. According to the letter from the administration, her seizures were, "…too distractive for the circumstance of learning."
Channing left CMC, but not before filing a complaint against CMC, citing the Americans with Disabilities Act. Her story gained a lot of media attention and her efforts achieved some results.
Channing explains that there have been several positive changes made at CMC after her experience there last year.  Today, all adjunct faculty are trained in how to interact with students who have disabilities. Also, the administration has added a detailed formal complaint procedure to its student handbook and the administration has clarified definitions in CMC printed materials about people with disabilities and about the nature of CMC's learning environments and atmospheres.
These are all positive changes, but Channing's experience at the time was a challenge.
In an interview about the incident last year with the Aspen Times, Channing was quoted, "The situation made me want to be completely isolated, to just sit back in my room and forget about going to college."
Channing is not certain whether or not she will return to school, though she is actively involved in a variety of other activities for the time being.
Support
"My family have always been my biggest supporters and always will be. My parents are amazing. They have opened up many opportunities for me."
Channing also gains tremendous help from her horse Perla and from her service dog, Georgie. "Georgie was my first service dog – I was really hesitant to get her because I was afraid that people would see me as a disabled person, but she has been a huge help. Georgie came from Canine Assistants…it is an amazing organization."
On horses, she explains, "Equine Therapy: it's really important.  My horse Perla helped me continue riding.  I owe a lot to my horse. She's always there for me."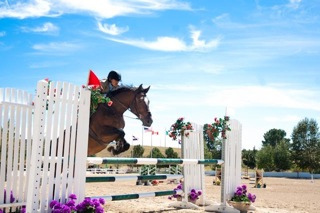 Channing competes with her horse, Perla, at High Prairie.
Channing also discovered a much-larger support network through participation in a variety of activities she enjoys: an internship at a Veterinary Clinic, a First Responder Certification course, a coaching position with the Aspen Freestyle Team, and an assistant manager position on a ranch during the summer.
These were great experiences for Channing in their own right, but they were important for another reason too: Channing met new friends and peers. "I had a better time finding my peers with adults." She explains, "Those who are always there for you, treating you like you're normal – those are the ones you keep."
Doctors and Treatment
Channing has Juvenile Myoclonic Epilepsy, and she had her first seizure in 2003 at age ten. She experiences  Absence and Myoclonic Jerk seizures on a daily basis and she typically has a Tonic Clonic (Grand Mal) seizure once a month. Channing takes a mixture of Keppra, Felbatol and Vimpat to reduce the number and severity of her seizures.
It was very important for Channing to find the right neurologist – in her case, this meant finding an epileptologist. "When I first got diagnosed, we started with a neurologist. We tried a lot of people – all were helpful but eventually we met an epileptologist in New York [Dr. Blanca Vasquez]…[Blanca] will call out of the blue, checking on me, urging me to get out of the house and be active." Channing's parents send Channing's seizure calendar to Dr. Vasquez each month together with a sample of Channing's blood work. Dr. Vasquez then analyzes the data and checks in with the family by phone. "The fact that she checks in on me from across the country is amazing and we are really thankful for her."
Channing certainly grew accustomed to such connections back home: "In Aspen, I knew everyone in the medical community to the point where I was friends with a lot of the people in the hospital and the fire department – it was a great community for me."
Tips Tricks and Advice
Channing firmly believes, "If you have a dream that you want to pursue, then there is no reason you can't pursue it." She goes on, "It can be really hard to look at the problem, but you do have to look for the solution."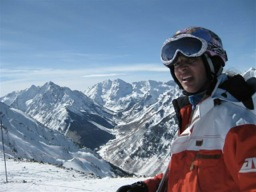 Channing spent several years as a coach for the Aspen Freestyle Team. 
Channing has come up with a few solutions herself. When she rides her horse, she wears a vest that automatically inflates in the event of a fall using a small air cartridge. While skiing, she clips into the chairlift using a climbing harness to protect against the possibility of falling from the lift during a seizure.
Channing's major breakthrough was in accepting epilepsy rather than ignoring it or pretending that it did not exist. Acceptance gave her the freedom to search for solutions to its challenges.
She places high value on finding peers, even if they must be found in unlikely places. Channing discovered that hers were more-often adults than kids or teens. "Don't think you don't fit in, because you do. Find someone with epilepsy and you will have common interests."
Channing was dealt a major curve ball at age ten when she began to experience frequent seizures. Epilepsy forced her to learn how to manage stress at a young age. It pushed her friends away from her in school. Epilepsy turned her memory of classes into a sort of haze, and it brought her grades down.
But epilepsy also gave her new perspectives and pushed Channing to grow and adapt in ways she did not know were possible before having seizures.
Channing has responded to her seizure disorder by embracing support from her family, her animals – Georgie and Perla – and by involving herself in a wide variety of activities. She discovered many of her best friends and peers through those activities, and she has enriched her life as a result. Channing has applied an impressive amount of drive to all of her pursuits. Her life is not based on quick fixes, but rather on a constant search for solutions to epilepsy's challenges. Channing's efforts toward this end have gotten her to where she is today.