Lucas Richmond has had a seizure while speaking before an audience at the Pepsi
Center. He has also had a seizure mid-dive from a 3m diving board into a swimming pool. He has experienced seizures every few of months since his diagnosis at age 13. I met Lucas in Greeley, CO at the Epilepsy Foundation of Colorado's Strides for Epilepsy 5k Race where we had a tent set up to serve refreshments to runners and to hand out info about Seize The World.  I hope you will enjoy reading about his story!!
Stephen Allen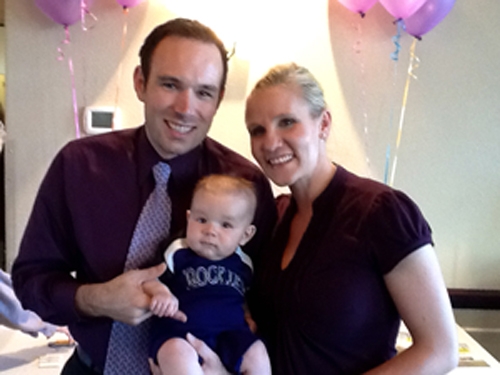 Lucas Richmond with his wife Cecilie and son Tanner.  The family lives in Fort Collins, Colorado.
Lucas emphasizes that epilepsy has served as a motivating factor in his life rather
than as a source of discouragement. "If anything, it made me driven to succeed in
all areas of my life – epilepsy has pushed me to excel." He was a competitive diver
in college at the University of Nevada Las Vegas and today owns a rapidly
growing Farmers Insurance agency in Fort Collins and continues to coach diving for
the City of Fort Collins Parks and Rec department. Lucas lives with his wife and his
8 month old son, Tanner.
Adversity
"Every time I have a grand mal seizure it ravages my short-term memory." Lucas' short-
term memory has been permanently affected by his seizures, and he struggles with the
effects on a daily basis. "I sometimes have a hard time remembering faces, names, and
little details about conversations. A lot is involved to counteract that. I use an iPad and
at the office, I have notes on each client to remember where each conversation left off. I
utilize my iPhone and iPad wherever I go. If it is something I need to/should remember, I
document it in my notes."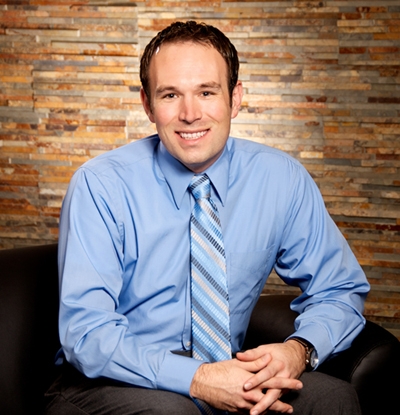 Lucas owns a Farmers Insurance office in Fort Collins.
Support
Lucas describes his support network as having three key components: his parents,
his wife, Cecilie, and his neurologist, Dr. Timothy Allen. He credits his parents and
wife with assisting in both seizure prevention and post seizure side effects. He
enthusiastically describes his doctor, Timothy Allen as, "The Man." Lucas explains
that Dr. Allen has played big role in helping many people with epilepsy lead full
lives. Several years ago while in college, Lucas reached a point in his life when
many became concerned about whether or not he should continue diving in college
because of his epilepsy. His seizures were becoming increasingly severe due to
school-related stress and early morning practices. He had been told by another
neurologist (in Las Vegas) that he should never get in the water again. Dr. Allen had
other ideas. "[Dr. Allen] was very good about listening to get a clearer understanding
of the situation. He said, 'we'll work harder and look for other options to control things
– [diving] is your gift – we'll find a way.'" Today, Lucas not only dives and coaches
regularly, but engages in many other activities as he is able to safely control his seizures using medication.

Doctors and Treatment
Lucas experiences tonic clonic / grand mal and complex partial seizures once every few months. He explains that his seizures vary in frequency depending on how well he is able to control three primary triggers – sleep, stress and alcohol. Lucas has a Vagus Nerve Stimulator (VNS) implanted in his chest and he also takes Lamictal on a daily basis to help reduce frequency and severity of seizures.

Tips and Tricks
Lucas is sure that the VNS helps, but he credits most of his ability to control seizures
to a host of lifestyle changes that he made right around the same time that he had VNS
surgery. As a college student in Las Vegas, like many college kids, Lucas was no
stranger to alcohol, lack of sleep or stress. As Lucas put it, "Not the best of combinations for an epileptic, but I felt invincible and that nothing could really hurt me." After returning to Fort Collins 10 years ago, Lucas continued to work with Dr. Allen and they began working on reducing stress levels and improving Lucas' quality of life. Later he met his now-wife and began to see a lot of improvement from an epilepsy point of view.  Lucas has also become a regular member at a CrossFit gym in Fort Collins. "I feel so good when I am done with each workout that it keeps me motivated in other areas in my life."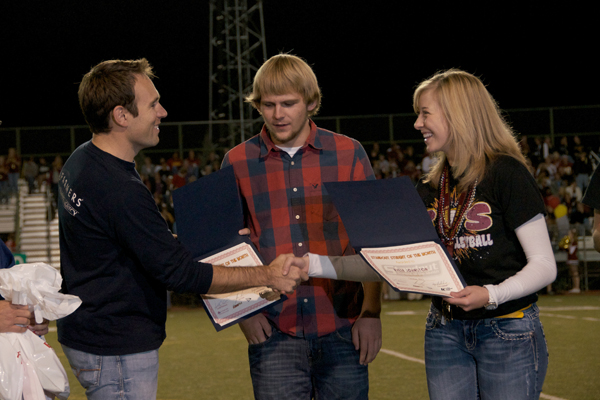 Lucas Richmond presents the Standout Student Award for epilepsy in Fort Collins.
Lucas has watched his stress levels drop and quality of life increase in recent years due
to the support of his family, friends, and doctor. His thriving business, daily exercise,
steady sleep and not to mention his growing family are just a few of the joys that make
his life complete. His advice is fairly simple: "Try new things. Find those things that
bring you joy and latch on to them."