David Jensen is a twenty-two-year-old student at the Community College of Denver.  Before starting at CCD, he went to Denver's South High School.  David's life is similar to those of many of his classmates at CCD – he is in his early twenties and he graduated from high school in the Metro Area.  But that is where the similarities end.  David has weathered more challenges in his 22 years than many will deal with during a lifetime.  He has a severe form of epilepsy.  He had brain surgery at age 12 that resulted in complications causing a stroke.  He forgot everything he knew, lost all vision in his right eye and 80% of the vision in his left eye. David's seizures and vision deficit also made him an easy target for bullies in school. However, David has risen above those challenges by approaching them as opportunities – or, maybe put better: interesting puzzles with exciting solutions – rather than handicaps.  He has found a thriving community with the Epilepsy Foundation of Colorado where he has now volunteered for more than ten years.  His hard work is paying off too.  In November, David was honored by NBC's Channel 9 News as the 9Who CARE volunteer of the month.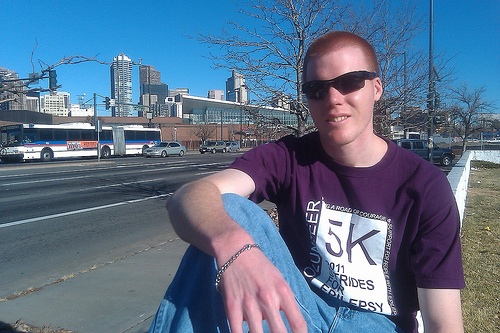 David Jensen, 22, is right at home next to the Auraria Campus in Denver, where he attends college at CCD.  The thought of getting on a bus was once extremely daunting for David, but today he navigates the city with ease, goes to college, and volunteers actively with the Epilepsy Foundation of Colorado.
After experiencing the rewards of volunteering and of leading an active lifestyle, David decided to make it a personal mission to help other young people with seizures.  David found his calling with the Epilepsy Foundation of Colorado.  He serves on the Foundation's Youth Panel and he is also a counselor with the Jason Fleishman Summer Camp.  Each year, he gives hope and inspiration to 100 kids who attend the camp.  "Camp is great," David explains, "…because…by the end of camp all you hear is 'I do not want to go home' and all you see is dead-on confidence in each and every one of those camper's eyes, which is a very rewarding site to see for a camp counselor like myself." 
Epilepsy is a neurological disorder caused by excessive or abnormal neuronal activity in the brain.  Epilepsy affects about seventeen-thousand people in the Denver Metro area and two million nationwide. Seizures range in severity and length, and they might involve mild distraction or violent convulsions.  Seizures can be fatal in rare cases.
ADVERSITY
David's brain surgery at age 12 caused a stroke and left him in the hospital for seven weeks.  He forgot almost everything he knew and had to re-learn the basics: walking, speaking, balance and social boundaries.  The stroke made him blind in his right eye and it cost him 80% of vision in his left.  David's seizures continued regularly even after his surgery at an average rate of once every ten days or so, varying greatly depending on his medications, diet and hydration levels.  David was bullied frequently by middle school classmates who did not understand his struggles with school work or his challenges with vision and with epilepsy.  Many classmates did not believe that epilepsy was a serious problem and a few suspected that he was inventing his disorder.  Most of them eased off after seeing David have a full-blown seizure at school.  David recalls, "It took me having a seizure for my classmates to show me some respect and accept me for who I am!"
SUPPORT
David speaks about his challenges with a twinkle in his eye and becomes excited when he recalls the various lessons, clues, tips and tricks that he has picked up along the path toward building an active and fulfilling life.  He clearly values athletics, charity, and a supportive community.
David explained how his tennis coach, Vicky Matarazzo, helped him to recover from his stroke: "I have to thank my tennis coach above all, for she was the one who gave me my balance back after I underwent surgery. She saw right through the competitive nature of the sport and recognized individuals as athletes.  Coach Vicky saw what my needs were and adapted around them so I could succeed. That is why tennis means so much to me."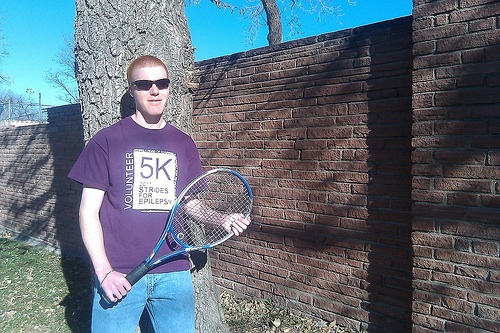 David credits tennis (and his tennis coach, Vicky) with helping him to regain his balance back after his stroke.  He traveled to various tournaments around the country while competing in the Special Olympics in high school.   
David also found a community with the Epilepsy Foundation of Colorado (EFCO).  He serves as a camp counselor and as a public speaker.  David is a part of the EFCO Youth Panel and gives regular presentations to local schools and youth organizations.  "Public speaking has really made a difference for me.  It has given me the opportunity to spread the word and has given perspective to the importance of learning about epilepsy.  For those who have epilepsy, there are resources out there… all you need to do is look.  If you would like more information log on to www.epilepsycolorado.org."
DOCTORS AND TREATMENT
(Please consult a neurologist before making any changes to your own treatment plan).
David has complex partial seizures and absence seizures.  He notes the importance of a good neurologist in finding peace of mind.  David takes Topomax, Trileptal and Keppra to control his seizures, which occur once every ten days on average.
On treatment, David explains, "It definitely depends on the neurologist and how they alter your medication.  Making sure that you get enough to eat and drink is important too.  Especially to drink because dehydration is a factor with my personal experience.  Also – whenever you play a sport and you have epilepsy, always tell someone about your seizures." 
His neurologist recommends energy drinks such as Powerade to keep sodium levels up.  However, David prefers a more-refined approach: "I have recently switched to Re-Charge because it tastes better."
TIPS, TRICKS, AND ADVICE
David's advice centers largely on sports: "Whenever you play a sport when you have epilepsy, always tell someone about it.  When I was really little I never did.  You should always tell them what to do if you have a seizure and what to do to help." 
He also advises informing others about your specific seizure disorder, "If you have tonic-clonic (grand mal) seizures, they may need to dial 911 whereas if you have complex partial or absence seizures, people can likely help you on-site.  Also tell them to not be scared.  They really don't need to be scared they just need to be understanding."
After David's stroke, transportation in the city was a challenge and he said that a useful thing his mother did was to set him up with a close family friend as a Bus Trainer to ride with him and help him learn schedules and routes as he recovered.  "When I was younger I always wanted to ride the bus by myself.  My mom would always drive me because she was worried, but [eventually] I said 'I can do this,' and …a good friend of the family showed me how to read bus schedules and which buses to take and so on."
David also emphasizes the role that his parents played, "My parents' always telling my coaches that I had epilepsy really helped a lot.  It made a huge deal."
On mental attitude, David has this to say, "My advice would be to think positive, for sure.  Never think that you can't do anything because I know that when I got out of the hospital I was thinking so negatively but I know that because of all the support I have that I turned out okay." 
David clearly faces a few added challenges, but he has a gift in the sense that he views these obstacles as exciting opportunities rather than debilitating burdens.  That is not to say that he does not experience frustration or confusion – he does.  David's strength is that he gains a sense of accomplishment in overcoming that frustration and confusion by figuring out solutions to the challenges of epilepsy.  And he is making an important contribution in sharing those solutions with the world.